( vê aqui a versão em Português )
We've added a new plugin to the forum which allows you to assign a topic or task to a user. This is useful for knowing who is responsible for it.
Only @privacylx-members can assign topics to people be everybody can see who is assigned to a topic (given they have access to see the topic itself).
Assigning a topic to someone
If you have permissions to assign topics, at the bottom of the conversation in an existing topic you will see an "assign" button. Click it.

Then, select the user you want to assign and you're done!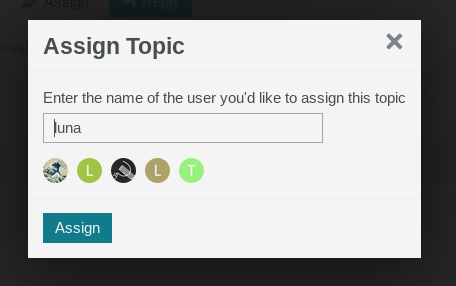 If you go to the title of the post, you can see on the bottom right corner the person assigned to it.

And on our internal kanban the assigned person will also be displayed on the bottom right corner.

Your tasks
To find your assigned tasks you just need to click on your profile image (on the top right corner) and then click on the icon